New Arrivals from the Hills & Foothills
We love discovering new wines and it's hard to resist opening a bottle when our latest treasures arrive at the store. I know, I know drinking the profits and all that but in the name of research...
We got the tip on 
Domaine de la Cote
 wines from our colleague at Appellation Wines & Spirits (see, competition can be friendly). The wines come from six vineyards in the Sta. Rita Hills, a tiny AVA in Santa Barbara County, less than 10 miles from the Pacific Ocean.  You may have heard of Evening Land; these vineyard sites were purchased from that project by Sommelier Rajat Parr and winemaker Sashi Moorman. The 2011 is Domaine de la Cote's first vintage and the wines are highly allocated.  The wines are also low in alcohol, as is the style preferred by Parr and Moorman, and incorporate very little new oak.  No complaints here!
The 
2011 Domaine de la Cote Pinot Noir Sta. Rita Hills
 ($49.99) is graceful and pretty with floral characteristics and sweet red fruit. We snuck a taste with the Coravin when it first came in and ended up uncorking it the next day and enjoying the rest of the bottle. We had the wine on its own (okay, there may have been cheese fries) but it would most definitely be a charming dinner companion.
The single vineyard 
2011 Domaine de la Cote Pinot Noir Bloom's Field
 ($65.99) is from a chilly little vineyard in view of the Pacific Ocean. Darker fruited and more precise than the estate Pinot Noir, the wine has vibrant acidity and a long finish. It should prove even better with a few years under its belt.
From further up north in the Sierra Foothills, along the Sierra Nevada mountain range on the eastern edge of California, comes
The Withers
.
 The name begs for it to be said out loud in a British accent. The meaning comes from the highest part of a horse's back and the idea of striving for heights in the wines. The Withers is a new-ish project (first vintage 2008) employing cool climate sites and focusing on Rhone grape varieties. When we heard that David Low, co-founder and winemaker at 
Anthill Farms Winery
, was making these wines we jumped at the chance to get some.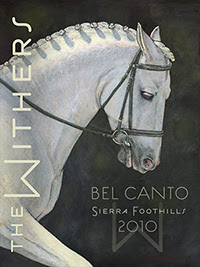 Friday
 we opened the 
2010 The Withers "Bel Canto"
($38.99), a Grenache-based blend with Mourvedre and Syrah. There's only 230 cases of the stuff (we have one, woohoo!) and it evolves in complexity and flavors as it opens and breathes. There's red fruit at its core and it's as powerful as it is charming.  A few lucky customers were around to taste the wine; swooning ensued.
2009 The Withers "Mr. Burgess"
 ($43.99) is a Syrah-based blend but in this vintage it's pretty evenly split 36% Syrah, 35% Mourvèdre, and 29% Grenache. There's 275 cases of this one (again, we have one, woohoo!). Mr. Burgess offers a little more spice and a little more tannin than Bel Canto. For those of you who want to kick it up a notch – you know who you are.