Sublime & Smart New Arrivals
Many people ask how we discover new wines and decide what to bring in to the store. While I wish I could say it was always from a trip out to California wine country, the magic usually happens right here in New York. We do have our new "eyes and ears" out on the West Coast ala Will Eagle, but here on the East Coast we attend tastings and have our distributors show us wines in the shop. 
 
The first two new arrivals come courtesy of the In Pursuit of Balance tasting held a few weeks ago in NYC. The tasting brings together California Chardonnay and Pinot Noir producers that are committed to balance and restraint as well as to demonstrating Terroir.  Two wineries we had never tasted before, Liquid Farmand Soliste, caught our attention right away. 
Proprietors of Liquid Farm, Nikki and Jeff Nelson, make the wines along with guidance from the talented guys at Dragonette Cellars. Their aim is to make wines "that have naturally high acidity and are not masked by many of the modern day manipulations." The name refers to wine being a liquid that comes from farming. I love that!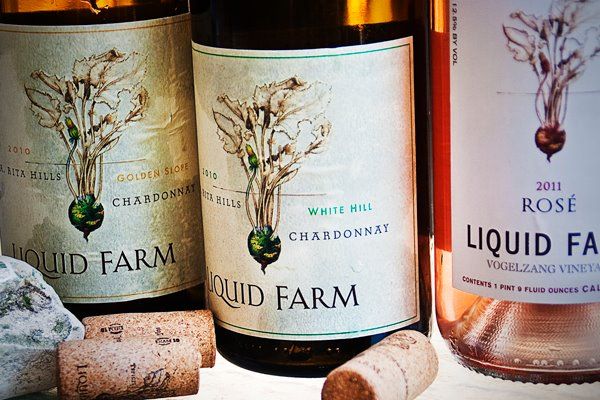 Anyway, we immediately fell for these Sta Rita Hills' Chardonnays and now have the 2012 Liquid Farm White Hill Chardonnay($42.99) on the shelf. The name White Hill alludes to the white chalky hills of Chablis and that is precisely what this wine reminds us of - Chablis. This is a beautiful, minerally, brackish wine aged in neutral oak barrels and some stainless steel. We hope to bring you some Liquid Farm Rose in the near future as well. Sublime.
 
The 
Soliste
 wines are deeply inspired by France; by 
Didier Dagueneau, Henri Jayer and the like. The name comes from a Burgundian tradition where a winemaker often reserves a barrel (a Soliste) for their family and friends. 
The 

2010 Soliste Chardonnay L'Age D'Or 

 ($59.99)

 from the Russian 
River
 Valley just arrived at the store and, if Liquid Farm White Hill is reminiscent of Chablis, this wine could very easily be mistaken for Meursault. This is some classy wine, let me tell you. The wine was aged in French oak for 16 months and you get the marriage of zesty citrus notes and minerality with buttery notes, caramel, and lemon curd. Truly sublime.
The next few wines we tasted with our friend Heather from 
Encore Wines
.
Field Recordings
 wines are made by Andrew Jones, who crafts delicious wines from under-appreciated vineyard gems. How does he find these little-known vineyards? He works planning nursery's for farmers all over California as his day job, that's how!
The 
2012 Field Recordings Fiction White Central Coast
($19.99)
 is 
75% Pinot Gris and 25% Vermentino and it's simply delicious. The crisp, fruity notes are tropical and accented with just a touch of honey. The floral nose will draw you in and the freshness will keep you coming back for more. Smart.
Cane & Fable
 is a joint venture between Field Recordings and Sans Liege. The 
2
012 Cane & Fable Cabernet Sauvignon
($26.99) 
from Paso Robles was aged for 10 months in both French and American oak, 25% new. Shrewd Cabernet drinkers listen up: this wine totally over-delivers for the price. Rich and smooth, comforting Cabernet with silky tannins that you can drink now. Very smart. 

Look for more new arrivals in the coming weeks. Don't hesitate to give us a call or e-mail us if you have any questions or we can help you pick out something both smart and sublime! Cheers.